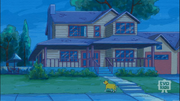 This is the home of
Alice Boxwood
,
Mrs Boxwood
,
Mr.Boxwood
,
Ronald Boxwood
,
Polly
,
Nelson
, and
Dynamo
. It is elaborately decorated once a year on Halloween.
Kitten used to live there.
It has a lawn with grey steps leading up to the house which is surrounded by bushes. The front porch has a red painted fence and the house is painted yellow with grey slated roof and red trim. It has a garage and an upstairs.
Inside the house, the living room has brick walls, a white ceiling with hallogen lights, a beige carpeted floor, an orange and white striped rug upon which sits a brown coffee table, a blue sofa and armchair, green curtains on the windows, and a fireplace above which is a flat screen TV. The living room is also decorated with three indoor plants, two lamps and a framed picture. Alice's bedroom has a blue carpet, large blue bed, a window with blue curtains, green walls, a pale blue ceiling, a dark blue bedside table with a lamp on it, and a blue desk with a computer and lamp on it, a brown chair next to it, and a drawing above it. There is also a dartboard above Alice's bed.
The kitchen has a lino floor with black and white checks, a white round table with blue chairs, Venetian blinds, lights with fancy lampshades, and a yellow kitchen bench with blue stools and a blue benchtop.
Regular Home
Edit
Spook House
Edit