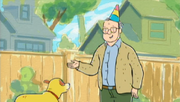 Bernard "Bernie" Lorraine is
Daniel
's father. He once lost Lucille's keys, bent her skies, and sold Lucille's chair for a big grizzly bear.
He is quite fun-loving but sometimes gets aches due to his age. He is otherwise in good health and likes Martha a lot. He knows how to fish.
Ad blocker interference detected!
Wikia is a free-to-use site that makes money from advertising. We have a modified experience for viewers using ad blockers

Wikia is not accessible if you've made further modifications. Remove the custom ad blocker rule(s) and the page will load as expected.