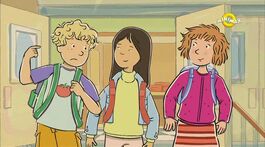 Celeste (pronounced sell-est-ay) is a minor character who attends Wagstaff City Elementary School. She is often seen in the background but has very few lines. She could also possibly be the owner of Bert as she was seen walking him in the background of Martha Hears.
Physical Appearance
Edit
Celeste is quite tall with average build and a complexion similar to that of Milo Lee. She has long, black, straight hair, a baby blue jacket, a yellow shirt, brown shoes and baggy baby pink pants.
In the episode Monkeyshines Martha, Celeste is called Susan by T.D. and Helen.
Ad blocker interference detected!
Wikia is a free-to-use site that makes money from advertising. We have a modified experience for viewers using ad blockers

Wikia is not accessible if you've made further modifications. Remove the custom ad blocker rule(s) and the page will load as expected.