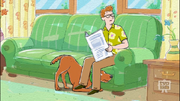 Daniel "Danny" Lorraine
is Helen's dad, who works as a bus driver. When he was a child, his favorite superhero was The Green Gas Lamp. He can be a bit stern with his family but is also a bit of a jokester.
Appearance
Edit
Danny takes on many jobs, so his appearance may change depending on the job.
Ad blocker interference detected!
Wikia is a free-to-use site that makes money from advertising. We have a modified experience for viewers using ad blockers

Wikia is not accessible if you've made further modifications. Remove the custom ad blocker rule(s) and the page will load as expected.