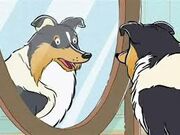 Dog Daze is the tenth episode in Season 4 it premiered on July 23, 2012
When Carolina chastises Martha for her dogish mannerisms, Martha wishes Carolina could just see things from her point of view. That night, Carolina goes to sleep, only to awake as... a dog! What will happen when she's forced to take on a furry, four-legged perspective?
Vocabulary

Edit
empathy, sympathy, mannerisms, characteristics, point of view
Characters
Edit
Ad blocker interference detected!
Wikia is a free-to-use site that makes money from advertising. We have a modified experience for viewers using ad blockers

Wikia is not accessible if you've made further modifications. Remove the custom ad blocker rule(s) and the page will load as expected.