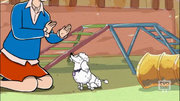 François is
Mrs Clusky's
snobby white teacup poodle.
Personality
Edit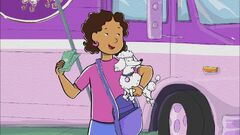 He is very demanding, and also picky, wanting to be massaged every evening and to wear a sailor suit on Sundays. He is Martha's friend, but they sometimes have a rivalry for attention. Francois likes to be the centre of attention, and he often is because he's so demanding, so cute, and the right size to do things like sit at the table. He is shown to have the appetite of the other pets when he eats Mariella's doughnuts and he's also smart enough to figure out how to get at them. He also loves being accessorized, and sometimes, Carolina will groom and accessorize him for some events.
Ad blocker interference detected!
Wikia is a free-to-use site that makes money from advertising. We have a modified experience for viewers using ad blockers

Wikia is not accessible if you've made further modifications. Remove the custom ad blocker rule(s) and the page will load as expected.