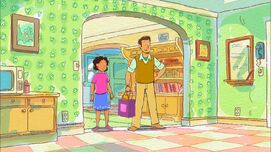 Jorge is Carolina's father and Mariela Lorraine's brother. He is the owner of a supermarket in Wagstaff City.  He has a secret recipe for cooking Mexican alphabet soup.
He likes hot chocolate and pronounces "chocolate" as "choco-LA-tay".
When Helen drew her family tree in Martha's Pack, she didn't draw him. Neither did she draw his parents, whose names are unknown.
His surname (and thus Mariella's original surname) is unknown.