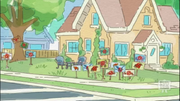 Mrs. Demson House is the most feared house in the neighborhood.  It is home to Mrs. Demson a crabby old lady who takes things that land on her property.  Her house and lawn is covered in signs warning everyone and everything about what she wants.  Inside if you are lucky is a comfortable house.  Nice and clean, all antique for this monster on the street.
Ad blocker interference detected!
Wikia is a free-to-use site that makes money from advertising. We have a modified experience for viewers using ad blockers

Wikia is not accessible if you've made further modifications. Remove the custom ad blocker rule(s) and the page will load as expected.