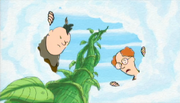 Otis Weaselgraft is one of the antagonists of the TV series, who wants to dognap Martha so he can make money off her special ability, and calls Martha "talking dog", but is constantly thwarted by Martha and her young friends. His main downfall is he underestimates Martha's intelligence. In one episode, he sold T.D. a "steak tree" as a scam, but even though the main characters discovered it didn't grow steaks, he wasn't caught. He and Pablum are recurring antagonists in the series, despite repeatedly getting caught and defeated in his scams by Martha. Both he and Pablum always manage to escape arrest.
Ad blocker interference detected!
Wikia is a free-to-use site that makes money from advertising. We have a modified experience for viewers using ad blockers

Wikia is not accessible if you've made further modifications. Remove the custom ad blocker rule(s) and the page will load as expected.