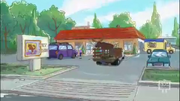 "
First I get swooshed with paint, then I get a bath! What's worse? A trip to the vet?!"-Martha
Pet Care is where Martha and Skits' vet works. Martha also worked with the vet as a nurse.
Patients
Edit
They seem to be able to help many animals, as they once helped a moose.
Martha doesn't work there full-time, but she sometimes gets summoned there if a dog's perspective is required.
Martha likes working there, but she dislikes being a patient there, as does Skits, because both are scared of shots.
Ad blocker interference detected!
Wikia is a free-to-use site that makes money from advertising. We have a modified experience for viewers using ad blockers

Wikia is not accessible if you've made further modifications. Remove the custom ad blocker rule(s) and the page will load as expected.