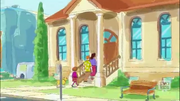 The Court House is where all criminals go before going to jail or where major disputes that concerns a certain lawyer for nearly running over a certain persons lawn.  It is runned by a judge and a court officer.  There is a place for the Jury and a witness stand.  There is seats for a audence.
Ad blocker interference detected!
Wikia is a free-to-use site that makes money from advertising. We have a modified experience for viewers using ad blockers

Wikia is not accessible if you've made further modifications. Remove the custom ad blocker rule(s) and the page will load as expected.