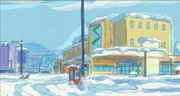 Wagstaff City General Hospital is located at the bottom of a hill from the towns liguale.  Martha has volunteered as a Hospital Care Dog.  She visited the different floors including the children ward.  
Mrs. Demson
has her own room in the hospital after multiply law suites against the hospital.  She also volunteered as a Hospital Care Person and made the patients miserble.  Little
Jaky
was born at the hospital after a wild ride through town.
Ad blocker interference detected!
Wikia is a free-to-use site that makes money from advertising. We have a modified experience for viewers using ad blockers

Wikia is not accessible if you've made further modifications. Remove the custom ad blocker rule(s) and the page will load as expected.